Research Article
Effect of an Indigenous Probiotic (Shewanella algae) Isolated from Healthy Shrimp (Penaeus monodon) Intestine on Clarias gariepinus
Department of Microbiology, University of Port Harcourt, P.M.B. 5323, Port Harcourt, Rivers State, Nigeria

Author

Correspondence author
International Journal of Aquaculture, 2015, Vol. 5, No. 36 doi: 10.5376/ija.2015.05.0036
Received: 26&nbspOct., 2015 Accepted: 10&nbspDec., 2015 Published: 18&nbspJan., 2016
© 2015 BioPublisher Publishing Platform
This is an open access article published under the terms of the
Creative Commons Attribution License
, which permits unrestricted use, distribution, and reproduction in any medium, provided the original work is properly cited.
Preferred citation for this article:
Ariole C.N. and Eddo T.T., 2015, Effect of an Indigenous Probiotic (Shewanella algae) Isolated from Healthy Shrimp (Penaeus monodon) intestine on Clarias gariepinus, International Journal of Aquaculture, 5(36): 1-9
Abstract
The efficacy of Shewanella algae, isolated from healthy shrimp (Penaeus monodon) intestine, as a biocontrol agent against Aeromonas hydrophila infection in Clarias gariepinus was evaluated. Spread plated technique was employed for bacterial isolation. The bacterial isolates were screened for in vitro antimicrobial activity against pathogenic Aeromonas hydrophila using agar well diffusion assay. The most active isolate (B2) was identified using phenotypic and molecular methods. The safety of the indigenous probiotic (B2) and the pathogenicity of the Aeromonas hydrophila on Clarias gariepinus were investigated. Feeding experiment was designed to evaluate the in vivo antibacterial efficiency of the most active strain using three groups of fish (Shewanella algae- supplemented feed group, control infected and control non-infected groups). At the end of the experiment, five fish from each group were randomly selected for haematological and serum biochemical response investigation. The parameters analysed were haemoglobin, packed cell volume (PCV), red blood cell (RBC), white blood cell (WBC), lymphocytes, monocytes, total protein and albumin. A total of four genera belonging to Pseudomonas, Shewanella, Vibrio and Proteus which were isolated from shrimp intestine had antagonistic ability against Aeromonas hydrophila with zone of inhibition of 8.0 ± 0.0 mm, 10.0 ± 0.0 mm, 8.0 ± 0.0 mm and 8.0 ± 0.0 mm respectively. Molecular analysis conducted on the most active isolate (B2) revealed that it is closely related to Shewanella algae strain KJ-W32 gi: 385880930. The virulence test carried out on Clarias gariepinus using Aeromonas hydrophila which was injected intraperitoneally, showed 50% lethal dose value at 6.4 x 104 cfu ml-1. The result from the probiotic trial showed that fish fed with incorporated Shewanella algae strain KJ-W32 exhibited better resistance to pathogenic Aeromonas hydrophila than the control infected fish. The mortality rate during the in vivo challenge experiments observed for Shewanella algae - supplemented feed group, control infected and control non -infected fish groups were 0%, 50% and 5% respectively. Fish fed with supplemented diet showed better haematological and serum biochemical performance than those fed with normal fish feed. The study showed that Shewanella algae strain KJ-W32 is beneficial to Clarias gariepinus. Therefore, this indigenous bacterium could be used as effective biocontrol agent for management of aeromonasis in aquaculture.
Keywords
Probiotic; Aeromonas infection; Clarias gariepinus; Physiological parameters
---
1.10.1 Chromosomal DNA extraction protocol (Zymo Research Bacterial DNA MiniPrep Kit) Sterile straight wire with pointed tip was used to pick a single colony from Petri dish of the test bacterium, and transferred into a 5 ml tube containing Luria-Bertani broth and incubated for 24 hrs at 37ºC, and then 1 ml of the test bacterium was pipetted into a ZR bashing bead lysis tube. Then 750 µl lysis solution was added to the tube. The tube was fitted into a ZR disrupter ginie holder and processed for 5 minutes. The sample in the ZR Bashing bead lysis tube was centrifuged at 10,000 × g for 1 min. Then 400 µl of supernatant was then transferred into a Zymo-spin IV spin filter (orang top) collection tube and centrifuged for 1min at 10,000 × g. Then 1,200 µl of Bacterial DNA Binding Buffer was added to the filtrate in the collection tube. Then 800 µl of the mixture was transferred into a Zymo-spin IIC column in a new collection tube and centrifuged at 10,000 × g for 1 min. The flow through from the collection tube was discarded and the bacteria DNA was added and centrifuged at 10,000 x g for 1 min. Then, 200µl DNA Pre-Wash Buffer was added to the Zymo-spin IIC column in a new collection tube and centrifuged at 10,000 × g for 1 min. Then, 500 µl Bacterial DNA Wash Buffer was added to the Zymo-spin IIC column and centrifuged at 10,000 × g for 1 min. The Zymo-spin IIC column was transferred to a clean 1.5 ml microcentrifuge tube and 100 µl DNA Elute Buffer was added directly to the column matrix and centrifuged at 10,000 × g for 30 sec. Ultra-pure bacterial chromosomal DNA was obtained for PCR amplification.
1.10.2 DNA concentration
The Nanodrop machine was cleaned with a piece of fabric wipe. Then 2 µl of deionized water was placed on the lower sample pedestal and blanked to 0.00 mg/ml. The sample pedestal was cleaned with a sample wipe and 4 µl of extracted DNA sample was dropped onto the sample pedestal and covered with the Nanodrop analyser. The measured nucleic acids values were recorded on the computer screen in mg/ml.
1.10.3 Preparation of PCR cocktail mixture for 16S sequencing
Master Mix= 12.5 µl, Forward primer=0.5 µl, Reverse primer = 0.5 µl, Template 3 ml and PCR water 8.5 ml
1.10.4 16S rRNA Amplification and sequencing
The 16S rRNA region of the rRNA genes of the isolate was amplified using the 27F: 5'AGAGTTTGATCMTGGCTCAG 3' and 1492R: 5'TACGGYTACCTTGTTACGACTT 3' primers on an ABI 9700 Applied Biosystems thermal cycler at a final volume of 50 microliters for 35 cycles. The PCR mix included: the X2 Dream taq Master mix supplied by Inqaba, South Africa (taq polymerase, DNTPs, MgCl), the primers at a concentration of 0.4 M and the extracted DNA as template. The PCR conditions were as follows: Initial denaturation, 95ºC for 5 minutes; denaturation, 95ºC for 30 seconds; annealing, 52ºC for 30 seconds; extension, 72ºC for 30 seconds for 35 cycles and final extension, 72ºC for 5 minutes. The product was resolved on a 1% Agarose gel at 120 V for 15 minutes and visualized on a UV Transilluminator. The amplified 16S products were sequenced on a 3500 genetic analyser using the Bigdye-Termination technique by Inqaba South Africa.
1.10.5 Phylogenetic analysis
The sequences were edited using the bioinformatics algorithm Bioedit, similar sequences were downloaded from the National Biotechnology Information Center (NCBI) data base using Blast N, and these sequences were aligned using Clustal X. The evolutionary history was inferred using the Neighbor-Joining method in MEGA 6.0. The bootstrap consensus tree inferred from 500 replicates is taken to represent the evolutionary history of the taxa analysed. Branches corresponding to partitions reproduced in less than 50% bootstrap replicates were collapsed. The evolutionary distances were computed using the Jukes-Cantor method and are in the units of the number of base substitutions per site.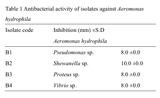 Table 1 Antibacterial activity of isolates against Aeromonas hydrophila

Figure 1 Phylogenetic tree showing species relatedness of isolate (B2)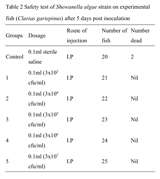 Table 2 Safety test of Shewanella algae strain on experimental fish (Clarias gariepinus) after 5 days post inoculation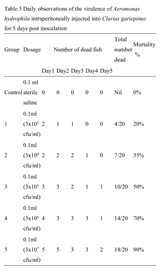 Table 3 Daily observations of the virulence of Aeromonas hydrophila intraperitoneally injected into Clarias gariepinus for 5 days post inoculation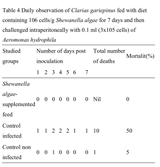 Table 4 Daily observation of Clarias gariepinus fed with diet containing 106 cells/g Shewanella algae for 7 days and then challenged intraperitoneally with 0.1 ml (3x105 cells) of Aeromonas hydrophila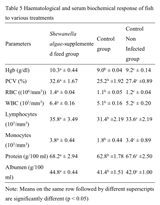 Table 5 Haematological and serum biochemical response of fish to various treatments
CNA contributed during conception and design, analysis and interpretation of results and write-up of the manuscript. TTE contributed during design, sample collection and analysis as well as acquisition of data and analysis. All the authors read and approved the final manuscript.
Ariole C.N. and Aso R.E., 2015, Antibacterial potential of bacteria from a freshwater fish intestine, AASCIT Journal of Bioscience, 1(4): 61-64
Ariole C.N. and Kanee N.B., 2013, The effect of marine probionts on the growth of fish and shellfish pathogens, New York Science Journal, 6(2): 49-52
Ariole C.N. and Oha E.C., 2013, Antimicrobial activity of estuarine isolates against shrimp pathogenic Aeromonas species, Nature and Science, 11(2): 123-128
Balcazar J.L., De Blas I., Zarzuela-Ruiz I., Cunningham D., Vendrell D. and Mu´ zquiz J.L., 2006, The role of probiotics in aquaculture, (Review) Veterinary Microbiology, 114:173–86
Haroun E.R., Goda A.S., Kabir A.M. and Chowdhurry M.A., 2006, Effect of dietary probiotic Biogen_supplementation as a growth promoter on growth performance and feed utilization of Nile tilapia Oreochromis niloticus (L.), Aquaculture Research, 37:1473–80
Holt J. G., Krieg N. R., Sneath P. H. A., Stanley J. T. and Williams S. T., (eds.), 1994, Bergey's manual of determinative Bacteriology 9th ed. Williams and Wilkins Baltimore, Maryland, U. S. A.
Irianto A. and Austin B., 2002, Probiotics in aquaculture, Journal of Fish Diseases, 25: 633– 642
John H. and Hatha A.A.M., 2013, Distribution, extracellular virulence factors and drug resistance of motile Aeromonads in fresh water ornamental fishes and associated carriage water, International Journal of Aquaculture, 3(17): 92-100
Lee Y. K., Lim W. L., Teng A. C., Ouwehand E. M., Tuomola E. M. and Salminen S., 2000, Quantitative approach in the study of adhesion of lactic acid bacteria to intestinal cells and their competition with Enterobacteria, Applied Environmental Microbiology, 66: 3692-3697
Nayak S.K., 2010, Probiotics and immunity: A fish perspective, Fish and Shellfish Immunology, 29: 2-14
Olorede B.R., Onifade A.A., Okpara A.O. and Banatunde G.M., 1996, Growth, nutrient retention, haematology and serum chemistry of broiler chickens fed sheabutter cake or palm kernel cake in the humid tropics, Journal of Applied Animal Research, 10: 173-180
Qi Z., Zhang H., Boon N. and Bossier P., 2009, Probiotics in aquaculture of China––current state, problems and prospect, Aquaculture, 290: 15–21
Rajesh K., Mukherjee S.C., Prasad K.P. and Pal A.K., 2006, Evaluation of Bacillus subtilis as a probiotic to Indian major carp, Labeo rohita, Aquaculture Research, 37: 1215-1221
M., Sapcto D., Sarma S. and Gohain A.K., 2003, Herbal growth promoters on hemato-biochemical constituents in broilers, Indian Veterinary Journal, 80: 946-948
Smith P. and Davey S., 1993, Evidence for the competitive exclusion of Aeromonas salmonicida from fish with stress-inducible furunculosis by a fluorescent pseudomonad, Journal of Fish Disease, 16: 521–524
Svobodova Z., Pravada D. and Palackova J., 1991, Unified method of heamatology examination of fish, Research Institute of Fish Culture and Hydrobiology, Vodnamy, Czechoslovakia, 31
Van de Nieuwegiessen P.G., 2009, Welfare of African catfish, effects of stocking density, Ph.D Thesis, Wageningen University, The Netherlands
Wang Y.B., Li J.R. and Lin J., 2008, "Probiotics in aquaculture: challenges and outlook," Aquaculture, 281(1–4): 1–4
International Journal of Aquaculture
• Volume 5
View Options
.
PDF(317KB)
.
HTML
Associated material
.
Readers' comments
Other articles by authors
.
Ariole C. N.

.
Eddo T. T.

Related articles
.
Probiotic

.
Aeromonas infection

.
Clarias gariepinus

.
Physiological parameters

Tools
.
Email to a friend
.
Post a comment