Research Article
Toxicity Effects of the Environmental Hormone 4-tert-octylphenol in Zebrafish (Danio rerio)
Febriyansyah Saputra
1,2

, Chia-Hung Yen
1

, Chi-Ying Hsieh
3

, Tsung-Yin Ou
4

, Yenny Risjani
2

, Wee-Keat Cheah
5

, Shao-Yang Hu
1

1 Department of Biological Science and Technology, National Pingtung University of Science and Technology, Pingtung, Taiwan
2 Department of Aquaculture, Faculty of Fisheries and Marine Science, University of Brawijaya, Indonesia
3 Department of Environmental Science and Engineering, National Pingtung University of Science and Technology, Pingtung, Taiwan
4 Department of Industrial Engineering and Management, National Quemoy University, Kinmen, Taiwan
5 School of Materials and Mineral Resources Engineering, Universiti Sains Malaysia Engineering Campus, 14300 Nibong Tebal, Penang, Malaysia

Author

Correspondence author
International Journal of Marine Science, 2016, Vol. 6, No. 4 doi: 10.5376/ijms.2016.06.0004
Received: 17&nbspSep., 2015 Accepted: 22&nbspOct., 2015 Published: 21&nbspJan., 2016
© 2016 BioPublisher Publishing Platform
Preferred citation for this article:
Saputra F., Yen C.H., Hsieh C.Y., Ou T.Y., Risjani Y., Cheah W.K., and Hu S.Y., 2016, Toxicity effects of the environmental hormone 4-tert-octylphenol in zebrafish (Danio rerio), International Journal of Marine Science, 6(4):1-12
Abstract
4-tert-octylphenol (4-t-OP), an environmental exogenous estrogen is produced by microbial degradation of alkylphenol polyethoxylates (APEOs). Although it is well known that 4-t-OP can cause the feminization of male, sterility and deficiency of gonad development of aquatic animals by disrupting the endocrine reproductive signaling, less is known about the effects of 4-t-OP on embryonic development. Moreover, the presence of 4-t-OP were detected in umbilical cord blood samples of newborns suggesting infants during development may expose to the risk of 4-t-OP contaminant, hence to investigate the effect of 4-t-OP on physiological function during embryonic development is necessary. In the present study, zebrafish embryos exposed to 4-t-OP were used to evaluate the toxicity of 4-t-OP. The 50% lethal dose (LD50) for wild type zebrafish embryos exposure to 4-t-OP for 3 days is approximately 1.0 mM, and a high ratio of cardiovascular defects were showed in survival embryos. To observe the cardiovascular defects more efficiently, Tg(fil-1:EGFP) zebrafish embryos was used in 4-t-OP exposure treatment. Following exposure Tg(fil-1:EGFP) zebrafish embryos to 4-t-OP at 1.0 mM for 4 days, a highly proportion of defects revealed in cardiovascular system, including pericardical edema, irregular shape or incomplete looping of ventricle and atrium, the absence of intersegmental vessel in the tail of notochord, unformed parachordal vessel and kinks in the caudal vein. The phenotype of cardiovascular defects was accompanied by reduced heart rate and impaired blood circulation. The mRNA expression levels of transcription factors, which are critical for zebrafish heart chamber formation and blood vessel development, were analyzed by RT-PCR. The results showed that the presence of 4-t-OP significantly induce expression level of ERα and ERβ2, and caused cardiovascular defects by suppressing transcription factor Nkx2.7, Hand2, Tbx2a, Tbx2b, Tbx5a, FGF1a, GATA-4, -5 and -6 in zebrafish. The present study suggests that 4-t-OP affects the cardiovascular development in zebrafish and elucidated that early life exposure to 4-t-OP potentially may take a risk of impaired cardiovascular function.
Keywords
4-tert-octylphenol;Toxicity;Zebrafish;Cardiovascular development
---
1 Introduction
Zebrafish possess discrete organs and tissue that are similar to their human counterparts at the anatomical, physiological, and molecular level. It has become a common experimental model for studying developmental toxicity due to the advantage of rapid development, transparent body for observation, most genes have been characterized from genome databases and a larger number of offspring for providing sufficient experimental material. In the present study, the influences of 4-t-OP on embryonic development and physiological function of a fetus were investigated by using zebrafish embryos exposure to 4-t-OP.
Adult AB-strain zebrafish and transgenic zebrafish Tg (fil-1: EGFP) were acquired from the Taiwan Zebrafish Core Facility at Academia Sinica (Taipei, Taiwan). The fish were acclimatized in the laboratory culture condition and observed for clinical health for at least one week prior to experiments. The fish were raised in 10-L tanks and maintained at 28 °C in recirculating freshwater with a controlled light cycle (14 h light/10 h dark), and fed daily with commercial pellet. A pair-wise breeding instead of group-breeding was used for breeding of zebrafish in this study to have a better interpretation of the effects. Fertilized embryos generated by pair-wise breeding was used for immersion treatment of 4-tert-octylphenol (4-t-OP). All zebrafish were handled in compliance with the local animal welfare regulations. The alkylphenol 4-t-OP with 97% purity (CAS No. 140-66-9) was purchased from Sigma-Aldrich. The 4-t-OP was dissolved in absolute ethanol as 6 mM stock solution and then diluted in embryos medium for immersion treatment of zebrafish embryos.
Tg (fil-1: EGFP) zebrafish embryos, which enhanced green fluorescent protein (EGFP) was specifically expressed in heart and blood vessel, were used to evaluate the phenotypes of cardiovascular defects resulting from 4-t-OP treatment. Immersion treatment of Tg (fil-1: EGFP) zebrafish embryos with 4-t-OP were carried out as follows: One hundred embryos in each well of 12-well microplate was exposed to 0.5 mM or 1.0 mM of 4-t-OP from 5 hpf until to the end of embryogenesis (96 hpf). The experiment was performed in triplicate. Twenty Tg (fil-1: EGFP) zebrafish embryos were picked into a petri dish containing 15 ml of embryos medium at 48, 72 and 96 hpf, and heart rate of each zebrafish embryos were calculated under microscopy (Leica Z16 APO). Ten embryos were collected at 48 and 72 hpf for real-time PCR. To observe the morphological defects of heart and blood vessel, live control and 4-t-OP treated embryos were anesthetized with tricaine methanesulfonate (MS222) before mounting in 3% methyl-cellulose (Sigma M-0387) and examined under a Leica stereomicroscope. Digital images or video was acquired using a Leica camera (Leica DFC310 FX).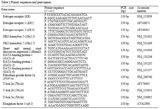 Table1 Primer sequences and gene names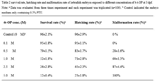 Table 2 New ICT based fertility management model in private dairy farm India as well as abroad

Figure 1 Cardiovascular defects induced in Tg (fil-1:EGFP) zebrafish at 2 dpf following exposure to 1 M of 4-t-OP

Table 3 Cardiovascular defects induced by 4-t-OP
Zebrafish embryos were exposed to control (embryo medium contain PTU only) or 1 M 4t-OP and the cardiovascular defects was examined on days 1, 2, 3 and 4. Data shown are the pooled results of triplicated experiments.

Figure 2 The effect of 4-t-OP on Tg (fil-1:EGFP) zebrafish heart rate following the 96 hours exposure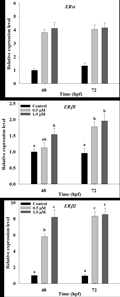 Figure 3 Quantitative PCR analyses of gene expression in 4-t-OP exposed Tg(fil-1:EGFP) zebrafish embryos at 48 and 72 hpf
In conclusion, the present study is the first report representing that the exposure of zebrafish embryos to 4-t-octylphenol resulting in highly incidence of cardiovascular defects. The presence of 4-t-OP in zebrafish embryos that induced expression level of ERα and ERβ2 suggesting the 4-t-OP mimicking estrogen which act highly binding affinity with both ER. The 4-t-OP exposed zebrafish embryos resulted in suppression of transcription factor NKX2.7, hand2, Tbx2, Tbx5, FGF, GATA-4, -5 and -6 expression may be the cause of cardiovascular defects. The susceptibility of zebrafish model exposed to 4-t-OP during early life suggests its role in injuring cardiovascular development and function, which is a health-risk concern of early life exposure in humans.
We thanks the Taiwan Zebrafish Core Facility at Academia Sinica (TZACS), which is supported by grant NSC 103-2321-B-001-050 from the Ministry of Science and Technology (MOST) in Taiwan for providing AB strain zebrafish and tansgenic zebrafish Tg(fil-1:EGFP). This research was supported by a grant NSC 102-2313-B-02-015 from the Ministry of Science and Technology.
Ademollo N., Ferrara F., Delise M., Fabietti F., and Funari E., 2008, Nonylphenol and octylphenol in human breast milk, Environ Int, 34: 984-987
Brion F., Le Page Y., Piccini B., Cardoso O., Tong S.K., Chung B.C., and Kah O., 2012, Screening estrogenic activities of chemicals or mixtures in vivo using transgenic (cyp19a1b-GFP) zebrafish embryos, PLoS One, 7: e36069
Brix R., Postigo C., Gonzalez S., Villagrasa M., Navarro A., Kuster M., De Alda M.J., and Barcelo D., 2010, Analysis and occurrence of alkylphenolic compounds and estrogens in a European river basin and an evaluation of their importance as priority pollutants, Anal Bioanal Chem, 396: 1301-1309
Calafat A.M., Ye X., Wong L.Y., Reidy J.A., and Needham L.L., 2008, Exposure of the U.S. population to bisphenol A and 4-tertiary-octylphenol: 2003-2004, Environ Health Perspect, 116: 39-44
Chandrasekar G., Arner A., Kitambi S.S., Dahlman-Wright K., and Lendahl M.A., 2011, Developmental toxicity of the environmental pollutant 4-nonylphenol in zebrafish, Neurotoxicol Teratol, 33: 752-764
Chen G.W., Ding W.H., Ku H.Y., Chao H.R., Chen H.Y., Huang M.C., and Wang S.L., 2010, Alkylphenols in human milk and their relations to dietary habits in central Taiwan, Food Chem Toxicol, 48: 1939-1944
De Smet F., Tembuyser B., Lenard A., Claes F., Zhang J., Michielsen C., Van Schepdael A., Herbert J.M., Bono F., Affolter M., Dewerchin M., and Carmeliet P., 2014, Fibroblast growth factor signaling affects vascular outgrowth and is required for the maintenance of blood vessel integrity, Chem Biol, 21: 1310-1317
Frye C.A., Bo E., Calamandrei G., Calza L., Dessi-Fulgheri F., Fernandez M., Fusani L., Kah O., Kajta M., Le Page Y., Patisaul H.B., Venerosi A., Wojtowicz A.K., and Panzica G.C., 2012, Endocrine disrupters: a review of some sources, effects, and mechanisms of actions on behaviour and neuroendocrine systems, J Neuroendocrinol, 24: 144-159
Ghisari M., and Bonefeld-Jorgensen E.C., 2009, Effects of plasticizers and their mixtures on estrogen receptor and thyroid hormone functions, Toxicol Lett, 189: 67-77
Heicklen-Klein A., Mcreynolds L.J., and Evans T., 2005, Using the zebrafish model to study GATA transcription factors, Semin Cell Dev Biol, 16: 95-106
Hsieh C.Y., Miaw C.L., Hsieh C.C., Tseng H.C., Yang Y.H., and Yen C.H., 2009, Effects of chronic 4-n-nonylphenol treatment on aortic vasoconstriction and vasorelaxation in rats, Arch Toxicol, 83: 941-946
Javerzat S., Auguste P., and Bikfalvi A., 2002, The role of fibroblast growth factors in vascular development, Trends Mol Med, 8: 483-489
Jiang W., Yan Y., Ma M., Wang D., Luo Q., Wang Z., and Satyanarayanan S.K., 2012, Assessment of source water contamination by estrogenic disrupting compounds in China, J Environ Sci (China), 24: 320-328
Jobling S., Sheanan D., Osborne J.A., Matthiesen P., and Sumpter J.P., 1996, Inhibition of testicular growth in rainbow trout (Oncorhynchus mykisis) exposed to alkylphenolic chemicals, Environ Toxicol Chem, 15: 194-202
Kirkley A.G., and Sargis R.M., 2014, Environmental endocrine disruption of energy metabolism and cardiovascular risk, Curr Diab Rep, 14: 494
Kovarova J., Blahova J., Divisova L., and Svobodova Z., 2013, Alkylphenol ethoxylates and alkylphenols--update information on occurrence, fate and toxicity in aquatic environment, Pol J Vet Sci, 16: 763-772
Lee O., Takesono A., Tada M., Tyler C.R., and Kudoh T., 2012, Biosensor zebrafish provide new insights into potential health effects of environmental estrogens, Environ Health Perspect, 120: 990-996
Mayer T., Bennie D., Rosa F., Rekas G., Palabrica V., and Schachtschneider J., 2007, Occurrence of alkylphenolic substances in a Great Lakes coastal marsh, Cootes Paradise, ON, Canada, Environ Pollut., 147: 683-690
Meeker J.D., 2012, Exposure to environmental endocrine disruptors and child development, Arch Pediatr Adolesc Med, 166: E1-7
Menuet A., Pellegrini E., Anglade I., Blaise O., Laudet V., Kah O., and Pakdel F., 2002, Molecular characterization of three estrogen receptor forms in zebrafish: binding characteristics, transactivation properties, and tissue distributions, Biol Reprod, 66: 1881-1892
Molkentin J.D., Lin Q., Duncan S.A., and Olson E.N., 1997, Requirement of the transcription factor GATA4 for heart tube formation and ventral morphogenesis, Genes Dev, 11: 1061-1072
Oketola A.A., and Fagbemigun T.K., 2013, Determination of nonylphenol, octylphenol and bisphenol-A in water and sediments of two major river in Lagos, Nigeria, Journal of Environmental Protection, 4: 38-45
Orlando E.F., and Ellestad L.E., 2014, Sources, concentrations, and exposure effects of environmental gestagens on fish and other aquatic wildlife, with an emphasis on reproduction, Gen Comp Endocrinol, 203: 241-249
Parrie L.E., Renfrew E.M., Wal A.V., Mueller R.L., and Garrity D.M., 2013, Zebrafish tbx5 paralogs demonstrate independent essential requirements in cardiac and pectoral fin development, Dev Dyn, 242: 485-502
Petersen K., Fetter E., Kah O., Brion F., Scholz S., and Tollefsen K.E., 2013, Transgenic (cyp19a1b-GFP) zebrafish embryos as a tool for assessing combined effects of oestrogenic chemicals, Aquat Toxicol, 138-139: 88-97
Pinto C., Grimaldi M., Boulahtouf A., Pakdel F., Brion F., Ait-Aissa S., Cavailles V., Bourguet W., Gustafsson J.A., Bondesson M., and Balaguer P., 2014, Selectivity of natural, synthetic and environmental estrogens for zebrafish estrogen receptors, Toxicol Appl Pharmacol, 280: 60-69
Rey Vazquez G., Meijide F.J., Da Cuna R.H., Lo Nostro F.L., Piazza Y.G., Babay P.A., Trudeau V.L., Maggese M.C., and Guerrero G.A., 2009, Exposure to waterborne 4-tert-octylphenol induces vitellogenin synthesis and disrupts testis morphology in the South American freshwater fish Cichlasoma dimerus (Teleostei, Perciformes), Comp Biochem Physiol C Toxicol Pharmacol, 150: 298-306
Roef G.L., Taes Y.E., Kaufman J.M., Van Daele C.M., De Buyzere M.L., Gillebert T.C., and Rietzschel E.R., 2013, Thyroid hormone levels within reference range are associated with heart rate, cardiac structure, and function in middle-aged men and women, Thyroid, 23: 947-954
Salgueiro-Gonzalez N., Turnes-Carou I., Besada V., Muniategui-Lorenzo S., Lopez-Mahia P., and Prada-Rodriguez D., 2015, Occurrence, distribution and bioaccumulation of endocrine disrupting compounds in water, sediment and biota samples from a European river basin, Sci Total Environ, 529: 121-130
Sedletcaia A., and Evans T., 2011, Heart chamber size in zebrafish is regulated redundantly by duplicated tbx2 genes, Dev Dyn, 240: 1548-1557
Senthil Kumaran S., Kavitha C., Ramesh M., and Grummt T., 2011, Toxicity studies of nonylphenol and octylphenol: hormonal, hematological and biochemical effects in Clarias gariepinus, J Appl Toxicol, 31: 752-761
Stainier D.Y., 2001, Zebrafish genetics and vertebrate heart formation, Nat Rev Genet, 2: 39-48
Tan B.L., and Ali Mohd M., 2003, Analysis of selected pesticides and alkylphenols in human cord blood by gas chromatograph-mass spectrometer, Talanta, 61: 385-391
Torregroza I., Holtzinger A., Mendelson K., Liu T.C., Hla T., and Evans T., 2012, Regulation of a vascular plexus by gata4 is mediated in zebrafish through the chemokine sdf1a, PLoS One, 7: e46844
Traversi I., Gioacchini G., Scorolli A., Mita D.G., Carnevali O., and Mandich A., 2014, Alkylphenolic contaminants in the diet: Sparus aurata juveniles hepatic response, Gen Comp Endocrinol, 205: 185-196
Tu C.T., Yang T.C., and Tsai H.J., 2009, Nkx2.7 and Nkx2.5 function redundantly and are required for cardiac morphogenesis of zebrafish embryos, PLoS One, 4: e4249
Van Den Belt K., Verheyen R., and Witters H., 2001, Reproductive effects of ethynylestradiol and 4t-octylphenol on the zebrafish (Danio rerio), Arch Environ Contam Toxicol, 41: 458-467
Van Den Belt K., Verheyen R., and Witters H., 2003, Comparison of vitellogenin responses in zebrafish and rainbow trout following exposure to environmental estrogens, Ecotoxicol Environ Saf, 56: 271-281
Watanabe M., Takano T., Nakamura K., Watanabe S., and Seino K., 2007, Water quality and concentration of alkylphenols in rivers used as source of drinking water and flowing through urban areas, Environ Health Prev Med, 12: 17-24
Wolff S.E., Veldhoen N., Helbing C.C., Ramirez C.A., Malpas J.M., and Propper C.R., 2015, Estrogenic environmental contaminants alter the mRNA abundance profiles of genes involved in gonadal differentiation of the American bullfrog, Sci Total Environ, 521-522: 380-387
Ying G.G., Kookana R.S., Kumar A., and Mortimer M., 2009, Occurrence and implications of estrogens and xenoestrogens in sewage effluents and receiving waters from South East Queensland, Sci Total Environ, 407: 5147-5155
Ying G.G., Williams B., and Kookana R., 2002, Environmental fate of alkylphenols and alkylphenol ethoxylates--a review, Environ Int, 28: 215-226
International Journal of Marine Science
• Volume 6
View Options
.
PDF(734KB)
.
FPDF
.
HTML
.
Online fPDF
Associated material
.
Readers' comments
Other articles by authors
.
Febriyansyah Saputra

.
Chia-Hung Yen

.
Chi-Ying Hsieh

.
Tsung-Yin Ou

.
Yenny Risjani

.
Wee-Keat Cheah

.
Shao-Yang Hu

Related articles
.
4-tert-octylphenol

.
Toxicity

.
Zebrafish

.
Cardiovascular development

Tools
.
Email to a friend
.
Post a comment