Research Article
Assessment of Genetic Structure in Wild Populations of Panulirus homarus (Linnaeus, 1758) across the South Coast of Sri Lanka Inferred from Mitochondrial DNA Sequences
1 Department of Animal Science, Faculty of Animal Science and Export Agriculture, Uva Wellassa University, Badulla, Sri Lanka
2 Department of Zoology, Faculty of Science, University of Ruhuna, Matara, Sri Lanka
3 School of Earth, Environmental and Biological Sciences, Science and Engineering Faculty, Queensland University of Technology, Australia

Author

Correspondence author
International Journal of Marine Science, 2016, Vol. 6, No. 6 doi: 10.5376/ijms.2016.06.0006
Received: 28&nbspOct., 2015 Accepted: 20&nbspJan., 2016 Published: 16&nbspMar., 2016
© 2016 BioPublisher Publishing Platform
This is an open access article published under the terms of the
Creative Commons Attribution License
, which permits unrestricted use, distribution, and reproduction in any medium, provided the original work is properly cited.
Preferred citation for this article:
Senevirathna J.D.M., Munasinghe D.H.N., and Mather P. B., 2016, Assessment of Genetic Structure in Wild Populations of Panulirus homarus (Linnaeus, 1758) across the South Coast of Sri Lanka Inferred from Mitochondrial DNA Sequences, International Journal of Marine Science, 6(6):1-9
Abstract
Scalloped spiny lobster (Panulirus homarus, Palinuridae) is an economically and ecologically important food species. Population structure of the scalloped spiny lobster across the southern coast of Sri Lanka (SCSL) (in Indian Ocean) was investigated using mitochondrial DNA (mtDNA) markers. Four sites belonging two regions were sampled (Hikkaduwa, Weligama in the southwest and Godawaya, Kirinda in the southeast) and DNA was isolated from tissues of pereiopod and used for PCR amplification. Genetic variation in DNA sequences were examined for two mtDNA gene regions; Cytochrome Oxidase I (COI) and Cytochrome B (CytB). High levels of haplotype diversity and nucleotide diversity were detected in all populations and estimated average fixation index (-0.026285 (p< 0.01)) indicated essential homogeneity among population. Results of AMOVA analysis confirmed an absence of signi?cant population structure among sites. Tests of neutral evolution and analysis of mismatch distribution suggested that P. homarus populations across the SCSL might have experienced a recent population expansion. Information emerged from the current study could be utilized when people design appropriate management strategies for conserving this vital wild marine resource.
Keywords
mtDNA; COI; CytB; Population genetics; Spiny lobster; Indian Ocean
---
Therefore, it can be concluded that there was no significant genetic differentiation among sites either for CytB or COI gene fragments analyses.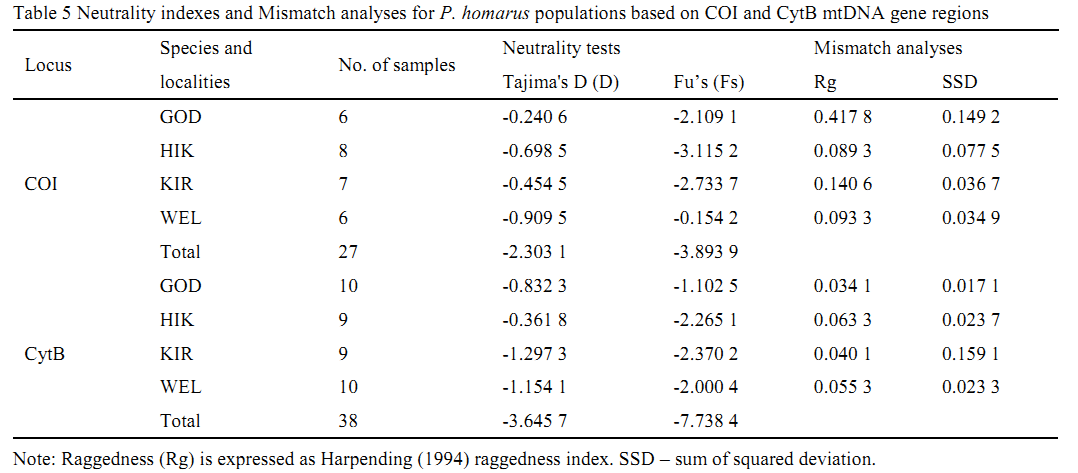 Table 5 Neutrality indexes and Mismatch analyses for P. homarus populations based on COI and CytB mtDNA gene regions
Senevirathna JDM conducted the study under the supervision of Munasinghe DHN. Peter B. Mather guided the study and support to enhance the quality of the manuscript. All authors read and approved the final manuscript.
This work was supported by grant TURIS-RU/DVC/Pro 45 offered from University of Ruhuna and OSTP/2012/28 grant offered from the National Science Foundation (NSF), Sri Lanka. We wish to thank the Director and the team of Paul Herbert Centre for DNA Barcoding and Biodiversity studies, Aurangabad, India for technical support and guidance provided.
Avise J.C., 2000, Phylogeography: The History and Formation of Species, Harvard Univ. Press, Cambridge, MA.
Booth J.D., and Philips B.F., 1994, Early life history of spiny lobster, Crustaceana, 66: 271-294.
Butler M.J., Cowen R., Paris C., Matsuda K. and Goldstein J. 2008, Long PLDs, Larval Behavior, and Connectivity in Spiny Lobster, Proceedings 11th International Coral Reef Symposium, Lauderdale, USA, 123.
Butler M.J., Paris C.B., Goldstein J.S., Matsuda H., and Cowen R.K., 2011, Behaviour constrains the dispersal of long-lived spiny lobster larvae. Marine Ecology Progress Series, 422: 223-237.
Codon Code Aligner, Dedham, MA, USA. 2012, Available at http://www.codoncode.com/aligner/, (Accessed 12/02/2013).
Crow J.F., and Aoki K., 1984, Group selection for a polygenic behavioral trait: estimating the degree of population subdivision. Proceedings National Academy of Sciences of the USA, 81: 6073–6077.
Da Silva J.M., Creer S., dos Santos A., Costa A.C., Cunha M.R., Costa F.O., and Carvalho G.R., 2011, Systematic and evolutionary insights derived from mtDNA COI barcode diversity in the Decapoda (Crustacea: Malacostraca). PLoS ONE, 6: 19449.
Dixon C.J., Ahong S.T. and Schram F.R. 2003, A new hypothesis of decapod phylogeny, Crustaceana, 76: 935-975.
Excoffier L., Laval L.G., and Schneider S., 2005, Arlequin version 3.0: an integrated software package for population genetics data analysis. Evolutionary Bioinformatics Online, 1: 47–50.
Folmer O., Black M., Hoeh W., Lutz R., and Vrijenhoek R., 1994, DNA primers for amplification of mitochondrial cytochrome c oxidase subunit I from diverse metazoan invertebrates. Molecular Marine Biology and Biotechnology, 3: 294–299.
Gunawardane P.V.S., Jayakody D.S., and de Croos M.D.S.T., 2006a, A study on adequacy of regulations for the spiny lobster fishery on the south coast of Sri Lanka, Proceedings 4th Food and Nutrition symposium, Faculty of Livestock, Fisheries and Nutrition, Wayamba University of Sri Lanka, 10.
Gunawardane P.V.S., Jayakody D.S., and de Croos M.D.S.T., 2006b, Relevance and applicability of existing regulations for the spiny lobster fishery on the south coast of Sri Lanka. Proceedings Twelfth Annual Scientific Session SLAFAR, 8.
Harpending H.C., 1994, Signature of ancient population grow the in a low-resolution mitochondrial DNA mismatch distribution. Human Biology, 66(4): 591-600. PMid: 8088750
Hoelzel A.R., Hancock J.M., and Dover G.A., 1991, Evolution of the cetacean mitochondrial D-loop region. Molecular Biology and Evolution, 8: 475-493. PMid: 1717809
Holthuis L.B., 1991, FAO Species catalogue, 13, Marine lobsters of the world. An annotated and illustrated catalogue of species of interest to fisheries known to date. FAO Fisheries Synopsis, 125: 1–292.
Koralagama D.N., Amarasinghe O., and Jayakody S., 2007, Export market of lobsters in Sri Lanka, with special reference to slipper lobsters, Proceedings fourth academic sessions (NARA), 84-90.
Lutjeharms J.R.E., 2006, The coastal oceans of South-Eastern Africa, In: The sea. Robinson, A. R. and Brink, K.H. (Eds). Harvard University Press, Cambridge, MA.
Naro-Maciel E., Reid B., Holmes E., Brumbaugh D.R., Martin M. and De Salle R., 2011, Mitochondrial DNA sequence variation in spiny lobsters: Population expansion, panmixia, and divergence, Marine Biology, 158: 2027-2041.
Roberts C.M., 1997, Connectivity and management of Caribbean coral reefs. Science, 278: 1454–1457.
Sanger F., Nicklen S., and Coulson A.R., 1977, DNA sequencing with chain-terminating inhibitors. Proceedings National Academy of Sciences of the USA, 74: 5463-5467.
Sekiguchi H., and Inoue N., 2002, Recent advances in larval recruitment processes of Scyllarid and Palinurid lobsters in Japanese waters. Journal of Oceanography, 58: 747-757.
Skillman R.A., 1989, Stock identification and billfish management. In: Stroud RH (ed) Planning the future of billfishes: research and management in the 90s and beyond. Part 1. Fishery and stock synopses, data needs and management. Marine Recreational Fisheries 13 - Proc 2nd International Billfish Symposium, Kailua-Kona, Hawaii, August 1–5, (1988), pp. 207–214, National Coalition for Marine Conservation, Savannah, GA.
Tamura K., Peterson D., Peterson N., Stecher G., Nei M., and Kumar S., 2011, MEGA5: Molecular Evolutionary Genetics Analysis using Maximum Likelihood, Evolutionary Distance, and Maximum Parsimony Methods. Molecular Biology and Evolution (submitted).
Thorpe J.P., Sole´-Cava A.M. and Watts P.C., 2000, Exploited marine invertebrates: genetics and ?sheries. Hydrobiologia, 420: 165–184.
von der Heyden, S., Groeneveld J.C., and Matthee C.A., 2007, Long current to nowhere-genetic connectivity of Jasus tristani populations in the southern Atlantic Ocean. African Journal of Marine Science, 29: 491-497.
International Journal of Marine Science
• Volume 6
View Options
.
PDF(770KB)
.
FPDF
.
HTML
.
Online fPDF
Associated material
.
Readers' comments
Other articles by authors
.
J.D.M Senevirathna

.
D.H.N. Munasinghe

.
Peter B. Mather

Related articles
.
mtDNA

.
COI

.
CytB

.
Population genetics

.
Spiny lobster

.
Indian Ocean

Tools
.
Email to a friend
.
Post a comment